Course details
<Farewell reception ♪> 2 hour drink all you can do * BBQ course 4500 yen ⇒ 3500 yen Many plenty of meat too! <All 8 items>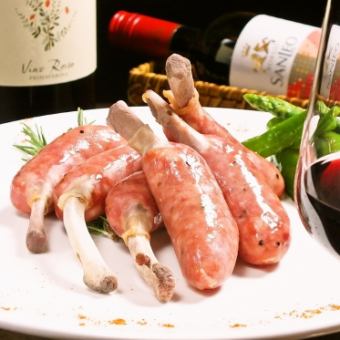 By using a coupon3500 yen
* Offered at 1000 yen OFF!
All-you-can-drink available

■ All you can drink 90 minutes, last order is 30 minutes ago.All you can drink as much as 1,500 yen.
Available days for reservation

Monday - Sunday - Public holidays - Holidays
* All-you-can-drink for 2 hours! Main course of meat and seasonal vegetables! It is perfect for girls' societies and mama societies.Please enjoy a variety of exquisite cuisine in a fashionable shop.
Course menu
1. Caprese
2. Fresh vegetables and seasonal fruit salad
There is a possibility that the menu changes according to purchase situation.
3. Pork sauce served with vegetables
4. Herb chicken grill
5. Sausage grill
6. Frit of large shrimp and potato
7. rice of the end
8. Today's dessert
All-you-can-drink menu
·beer
· Draft beer / Suntory premium
·Highball
· Black Nikka
·whiskey
· For Roses / Suntory Whiskey
· Shochu
· Jinro / Kaori Wagu / Nikki Beech Barley / Ichibanso / Satsuma Shoji Potato / Marukaoka / Black Kirisima Potato / Hakkaisan
·Cocktail
· Gin tonic / ginfizz / vodka tonic / cassis soda / cassis yoghurt / mojito / rum coke / mango yang milk / mango yang orange / campari soda / campari orange
·sour
· Lemon Sour / Line Sour / Lassie Sour / Zakurosawa / Grapefruit / Oolong Hi / Green Tea High
·wine
· House wine glass (red · white)
·Soft drink
· Ice Chai / Ice Coffee / Oolong Tea / Green Tea / Jasmine Tea / Orange Juice / Binapple Juice / Coke Lassie / Mango Lassie / Ginger Ale
· Hot drinks
· Chai Coffee / Oolong Tea / Green Tea / Jasmine Tea
2018/09/14 update