Course details
<Farewell reception ♪> 90 minutes all you can eat and drink course * 4000 yen ⇒ 3000 yen All you can eat kushikatsu!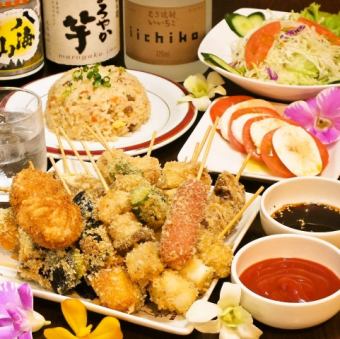 By using a coupon3000 yen
(Tax excluded) 1000 yen Off Offered!
All-you-can-drink available

■ All you can drink 90 minutes, last order is 30 minutes ago.All you can drink as much as 1,500 yen.
Reservation deadline

Until 23 o'clock the day before the store visit date
Available days for reservation

Monday - Sunday - Public holidays - Holidays
* Bistro LAFA 's chef' s handcrafted hands on everything you can eat! How much you can eat and drink all - you - can - eat right now.All meat and vegetables are all you can eat ◎ You can enjoy the seasonal vegetables as much as you want.All you can drink is beer and wine, cocktails and sour, soft drinks are included, so you can enjoy it to many people.This
Course menu
Seasonal vegetables and fruit salad
The content varies depending on the purchase situation.
■ One dish of chef * Extraordinary sausage
Grill of herb chicken
Deep-fried skewer
Chicken dumplings egg sausage beef pork liver
Pumpkin onions Negima
Many others
■ Deferred rice
If you wish for dessert, please contact in advance.
All-you-can-drink menu
·beer
· Draft beer / Suntory premium
·Highball
· Black Nikka
·whiskey
· For Roses / Suntory Whiskey
· Shochu
· Jinro / Kaori Wagu / Nikki Beech Barley / Ichibanso / Satsuma Shoji Potato / Marukaoka / Black Kirisima Potato / Hakkaisan
·Cocktail
· Gin tonic / ginfizz / vodka tonic / cassis soda / cassis yoghurt / mojito / rum coke / mango yang milk / mango yang orange / campari soda / campari orange
·sour
· Lemon Sour / Line Sour / Lassie Sour / Zakurosawa / Grapefruit / Oolong Hi / Green Tea High
·wine
· House wine glass (red · white)
·Soft drink
· Ice Chai / Ice Coffee / Oolong Tea / Green Tea / Jasmine Tea / Orange Juice / Binapple Juice / Coke Lassie / Mango Lassie / Ginger Ale
· Hot drinks
· Chai Coffee / Oolong Tea / Green Tea / Jasmine Tea
2018/09/14 update